MANIFESTO
COLLABORATIVE BY ESSENCE
EX NIHILO draws inspiration from the creative talents of perfumery, but also from architecture, design or art glass. By opening new path of collaboration between the perfume creators, the latest technologies and the artistic community, EX NIHILO wishes to answer the desires of a generation seeking some of the most exciting and inspiring sensations.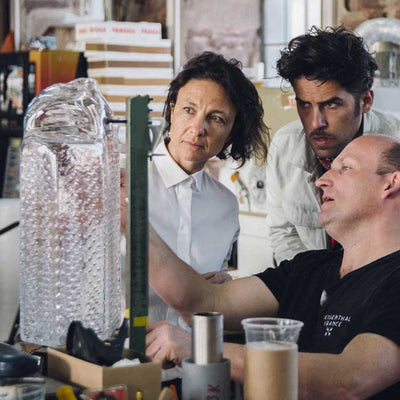 A UNIQUE OLFACTORY EXPERIENCE
Besides its fragrance collections based on the most exclusive materials, EX NIHILO offers an immersive experience and a unique olfactory journey across all its locations. They are venues for discovery and experimentation, fully dedicated to the senses: Personalized perfume consultation, discovery of exceptional new raw materials, electronic fragrance testers… Clients can experience the whole collections, limited editions and artistic collaborations.
In the Top Tier locations, the possibility is offered to create your own demi-bespoke perfume, thanks to the Osmologue©: an exclusive and futuristic version of a high precision fragrance blending system, which cradles the heart and the
Raison d'Être of the brand.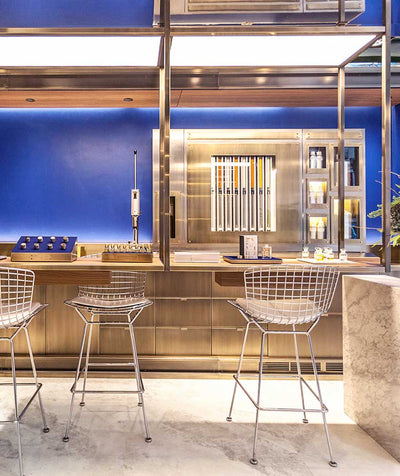 CONTRIBUTORS
The creative personnalities behind EX NIHILO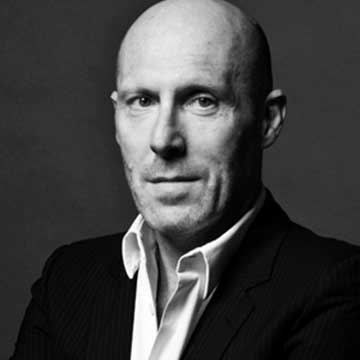 CHRISTOPHE PILLET
Christophe Pillet's perfect command of sensuality and refinement has made him one of the rare French designers who have gained global recognition designing hotels, boutiques and directing artistic projects in the USA, Great-Britain and Japan. He has won international acclaim for the spectrum and quality of his creations.

Architecture, objects, furniture, artistic direction, his signature is invariably associated with the finest brands.

He believed in the concept at a time when EX NIHILO was only a project. He has designed EX NIHILO 's flagship store rue Saint-honoré and its most exclusive locations in New York, London and Moscow infusing his High Voltage chic to the vision of Sylvie, Olivier and Benoît.

christophepillet.comInstagram@christophe_pillet_studio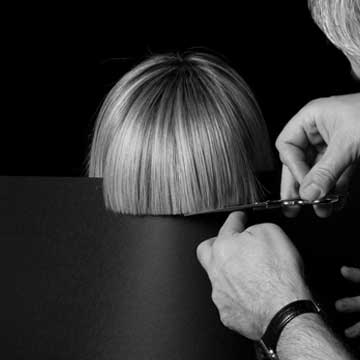 TANIA & VINCENT
Tania and Vincent are a couple of photographers. They met at the Cantonal School of Art (ECAL) in Lausanne, where they trained in photography and graphic design.
Their work revolves around Still Life. The composition of the image is no longer just the simple picture of a fixed nature, it becomes a surrealistic staging made of collages from objects of different scales such as a graphical Trompe L'oeil, where the marks are lost and where the multiple dimensions of the image are played out. Pictures series are treated as stories where each photograph is similar to a chapter.
Tania and Vincent do not make the image in post production, but in self-designed montages, in the studio. Their series have been exhibited at the European House of Photography (MEP) and are published in leading international fashion magazines.
They are at the origin of the images that accompany each creation of EX NIHILO.
taniaetvincent.com
Instagram @taniaetvincent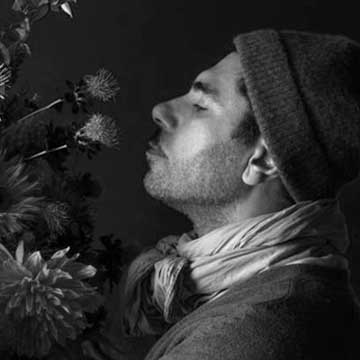 MAJID MOHAMAD
Majid Mohamad has been in charge of the floral identity and window displays of EX NIHILO from the very start.

His workshop, located at the heart of Montmartre rue Burq, is a true laboratory of creative experimentation. He works regularly for the fashion sphere, creating spectacular bouquets for shows, exhibitions, but also public spaces and private commissions.

After learning his art in Tehran, Iran, his country of origin, he moved to Paris 17 years ago. He patiently enhanced his style before opening his first shop in October of 2013 (almost at the same moment as EX NIHILO).

He would define his signature as "Bohemian, romantic, occasionally fragile". He is well known for mixing floral varieties, creating astonishing and unexpected forms.

He likes that one has to focus on the hidden details, and "provoke his curiosity".

For EX NIHILO, he worked around the synchronization of the Electric blue. He played with the magnificent, intense, and powerful shades incorporating exotic and very graphic dry flowers. His secret is "to never stop experimenting", a philosophy he can express everyday with EX NIHILO.

Muse Montmartre
4 Rue Burq
75018 Paris

Instagram @musemonmartre

Liquid error (layout/theme line 98): Unknown operator template